・Can a file be sent only to those who want to share?
・Can other see my sent file without my permission?
・Is your data center system secure?
In order to feel comfortable, we have formulated thorough safety measures.

Does such a thing happen?
・cannot send email with large attached file
・large files exceed the capacity of email box
firestorage makes it possible to share a file without the burden of the sender and recipient.
■ How to upload
After login to your account, click the "Upload" menu on the left.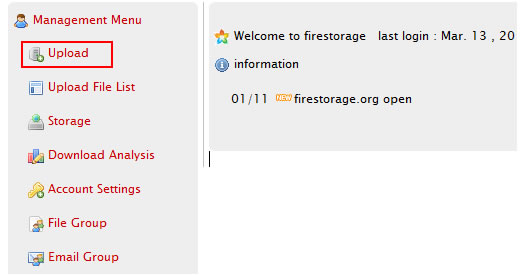 Select the Upload period settings. firestorage offers 7 days as the longest Upload period.
After clicking the "Upload" button on the bottom, select a file.
Free member can upload file up to 250MB, and 20 files simultaneously.
Paid member can upload file up to 2GB, and 20 files simultaneously.
When file uploading completed, the download URL will be issued. Copy the issued Download URL and paste it into your email to those whom you want to send.
I cannot find the Upload button anywhere in "Upload" menu.
Case 1. Do you have the latest version of Flash on your browser?
Please install the latest Flash from the following link. If you have the latest Flash, please do overwrite install.
http://www.adobe.com/shockwave/download/index.cgi?Lang=English&P5_Language=English&P1_Prod_Version=ShockwaveFlash&Lang=English

Tips to install:
Please install the latest Flash on the browser on which you use firestorage.
Please reboot your browser after installing.
It is good to uninstall Flash and install it again.

Case 2. Is not the Upload button displayed after having tried the above?
Please change your browser.
After upload, how can I notify those whom I want to share?
Please copy the issued Download URL* and paste it into an email.
And please send the email to those whom you want to share.

*Download URL
http://firestorage.com/download/(the alphanumeric character of 40 digits)

How can I download a file?
Please paste the Download URL into the address bar of the browser*.
After access, you can download the file by clicking the File Name.

*If there is a line break or a blank, you cannot access.
It is prohibited to upload any file that infringes or misappropriates the intellectual property rights or violates the privacy rights of any third part. Please check here for more details.
Please test uploading and downloading a small file.
If you fail it, please check the following notes.
Notes
・Is the javascript on your browser ON? Check your browser's settings.


・Do you have the latest version of Flash on your browser? Check the version from here.

・Do you use a security software?
Security software in your PC may block communication because of file size or file format.


・Do you use at your company/school?
Anti virus software or firewall in your PC may block communication.
Please ask the network administrator to check the settings.